"When Reciprocity opens community ."
In October, we spent an evening with an amazing team of thought leaders in Western Australia (WA). The occasion was a black-tie dinner- The Pinnacle Awards in WA. One of the nominated businesses was My Supports – a small agency in Australia that focuses on partnerships with people who experience disability – ensuring that a minimum of their staff supports are people who experience or have a closely lived experience of disability. We were honoured to be invited to celebrate with this dedicated group of people as they celebrated their place in the business community.  
This is an exciting evolution of the caring field, as we continue to think about a blended way of looking at things. My Supports and other agencies are using an effective model for individualized supports that rests on a sound business model, while continuing to honor the vital person-centered role they play in peoples' everyday lives. This field of the heart is ready to evolve! How might sustainability as a whole build a solid foundation from which to deliver heart-centered quality services? 
And… 
The real story for us that evening though wasn't in the melding of those two worlds and the many possibilities. The real story lies in a beloved deck of tarot cards and an intentionally unintentional road to being authentically included. 
As community builders, Sheldon and I have created a solid practice of creating safe space for people to come together to share ideas, be vulnerable and learn from one another. We found ourselves on that evening of the Black Tie event in another hemisphere with people we didn't know well and who knew nothing about us. What an opportunity! A veritable clean slate all the way around- we really had no idea what to expect – but expected something of significance to happen. 
To start with – a formal black-tie dinner was not something either of us had anticipated on this trip, so an impromptu expedition to the mall resulted in Sheldon purchasing a beautiful shirt and pants that were more "formal" but not "black tie". We imagined that there would be grace allotted for the "come from away folks".  Never one to follow trends, Sheldon found a shirt with a navy and white flowered pattern- not too colourful but unique to be sure. 
We enjoyed an amazing dinner and conversation fueled by some champagne and the excitement of the award. It was a noisy busy room with hundreds of business people celebrating in their black-tie finery. We were enjoying our evening; making small connections here and there. 
Unfortunately, My Supports did not win. But it truly wasn't about the winning. This group had come together to celebrate each other and have some fun. They cheered for the group that did win and continued to laugh and enjoy the wine and conversation.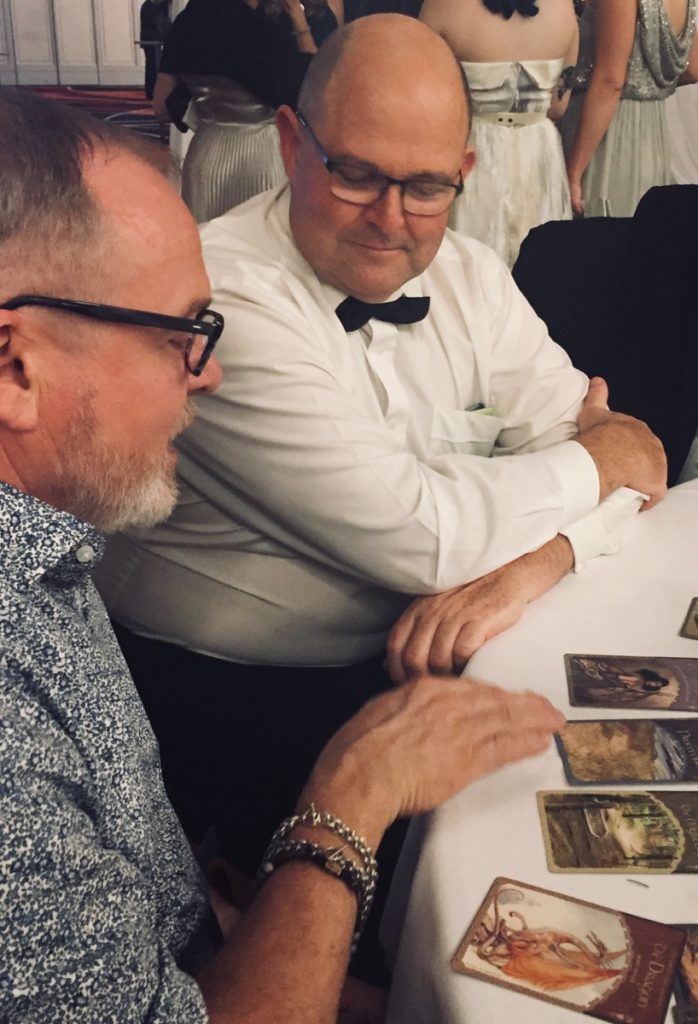 I looked across the table at Sheldon who was in deep conversation with Marie- a woman who works for My Supports and a definite heart of the organization. They were leaning in close and Marie was looking at the table in front of them with such a look of love. I wondered "what the heck are they talking about?" I looked at the table and saw something that both surprised and didn't surprise me at all. Sheldon was doing a tarot reading for Marie.  
Tarot you say? Under what circumstances would this be an expected event? Bear in mind that I trust Sheldon implicitly and that I had enjoyed more than one tall glass of champagne so I sat and felt all the feels one does when confronted with something unexpected. What if people are offended? What if this isn't allowed here (ok that was really a fleeting moment). Is Marie being polite to her guest or is this something she really wants? How is she hearing him above all ruckus?   
I moved in a little closer to feel the energy of the conversation and realized she was loving every moment of it. She listened intently and was asking questions for clarity. I could see the connection between the two of them growing minute by minute. 
Then I looked around them. People were drawn to that energy. They were curious about the cards and then one by one they began asking… "Could I be next?" "Could you do one for me?"   
One by one people sat with Sheldon and asked questions and listened. Reactions were as varied and unique as the person. Some struggled with their faith belief and the idea of tarot. I listened in awe and with such respect as they publicly made a decision to simply sit in curiosity and listen.  
For me, it was a defining moment for In the Company of Others. 
We know that when we show up with our hearts open and an intention to connect. We trust that it will happen and we also know that we are intentional about it. Those cards (although not a planned event) were every bit intended to bring us all together in a vulnerable space which creates the possibility of intimacy and love to emerge. 
Sheldon didn't stop for hours; to the point where most people had left and the big guys who were taking care of security sheepishly asked us to pack up our cards and go home.  
We take our tarot cards everywhere with us, along with other cards designed to encourage conversation, rocks we have gathered on our walks by local rivers, storybooks and our sketch pads. We refer to these things as our love kit. 
Do you have one? We'd love to hear from you. What do you use to support deeper conversations? How might we all work together to create these moments of learning, sharing and connecting?